It is critical that devices operate, day after day, after day in some of the most extreme conditions imaginable. Sensata - BEI Sensors understands these needs and backed by decades of experience, designs sensors that offer uncompromising quality and performance.
Sensata upholds a standard of excellence in their products, customer service experience and commitment to being your preferred partner for position sensors. Sensata provides reliable position, speed and inclination sensing products for mission-critical and extreme environment applications in the industrial, military/aerospace and off-road equipment markets worldwide.
Their products utilize the latest optical, magnetic and potentiometric sensing technologies.
Peerless Electronics is your authorized source for Sensata including BEI Sensors - contact us with your requirements today.
Review the BEI Position Sensors Guide here.
Review the Sensata Sensor and Encoder offering here.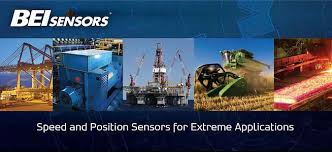 Items showing 'As low as:' pricing contain quantity price breaks. Click on the item to see the details.