Deltrol Controls is located in Milwaukee, Wisconsin, and is a wholly-owned subsidiary of Deltrol Corp. For over 50 years, they have designed and manufactured solenoids, relays, valves, and custom assemblies for a variety of applications. Their Milwaukee operation employs approximately 125 people, working out of a 110,000 square foot manufacturing facility. They also have manufacturing capabilities in other parts of the world that allow them to be a globally competitive supplier.
Deltrol Controls offers one of the most extensive standard product lines of solenoids, relays, and dispensing valves in the world. They are used in a variety of applications including HVAC, vending equipment, security systems, engine controls, office equipment, and many more. They pioneered the encapsulated coil and are proud to offer it on most of their products and offer extensive experience in customizing standard products, as well as designing new products specific to an application.
Peerless Electronics is an authorized source to satisfy your Deltrol Controls requirements.
Review Deltrol Controls product offering here.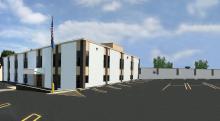 Items showing 'As low as:' pricing contain quantity price breaks. Click on the item to see the details.