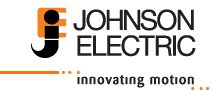 - Johnson Electric, the parent company of Saia, Burgess, Ledex and Dormeyer is a global leader in motion products and control systems. They serve a broad range of industries to meet every need.
- These categories include automotive, building automation and security, business machines, defense and aerospace, food and beverage, home technologies, HVAC, industrial equipment, medical devices, personal care, power equipment and power tools with an array of solenoids, switches and motors.
- This company is special in their commitment to leading the way for success for all customers and through pure differentiation as well as supply chain excellence. Contact Peerless Electronics for all of your Johnson Electric needs.
Items showing 'As low as:' pricing contain quantity price breaks. Click on the item to see the details.